I came across Trader Joes Gluten Free Oats that are $3.99 for a big 32oz bag! Much more affordable than the other brand I was buying. Even better, on the back of the package is a delicious gluten free Oatmeal Chocolate Chip Cookie Recipe! Here it is: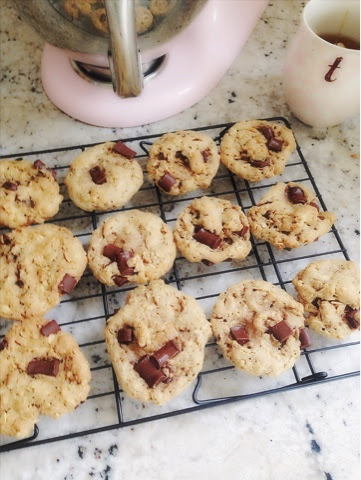 Ingredients (Recipe found on the back of my Trader Joes Rolled Oats):
1/4 cup butter (Earth Balance for dairy free)
1 1/4 tsp baking soda
3/4 cups sugar
3 cups Trader Joes Rolled Oats (Just a hunch, but I bet other rolled oats would work)
3/4 cup brown sugar
6 oz chocolate chips (Enjoy Life Chocolate Chunks for dairy free)
2 eggs
1/2 cup sunflower or chopped walnuts
1 tsp vanilla
1 cup peanut butter
Instructions:
Preheat oven to 350 degrees. In a large bowl, combine sugar, brown sugar and butter and beat until creamy. Add eggs, vanilla and baking soda and mix well. Add peanut butter and mix. Stir in oats, chocolate chips and nuts. Place teaspoon full of dough on a lightly greased cookie sheet about 2 inches apart. Bake 10-12 minutes until lightly brown around the edges.
Enjoy!
~t