I came across an adorable press for champagne button that was framed out! I instantly knew I wanted one, but found the price at $70. I decided to DIY it. In the end, it only ended up costing $4.47! The DIY version does not come with champagne delivered by a butler. Sorry! I love pairing it with a bottle of champagne that is covered in glitter! Here's my blog post on DIY Glittered Champagne Bottles.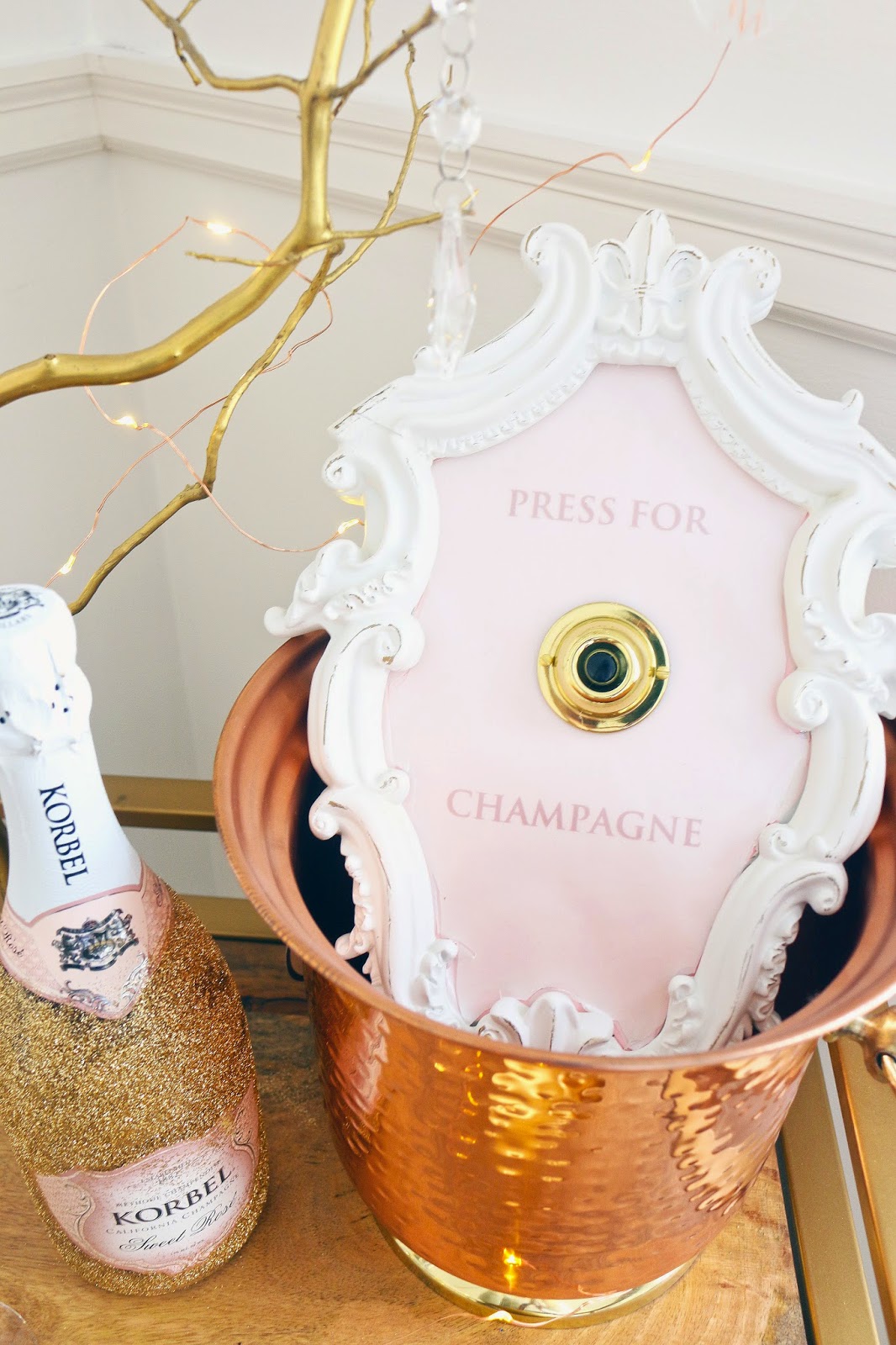 The original "Press for Champagne" button came from the Montage Bevery Hills Hotel. At Montage Beverly Hills, Designer Nina Petronzio of Plush Home delved into the 1940s with Deco flair. It features a button labeled "Press for Champagne" that dispatches a waiter dressed in a tuxedo to deliver your bubbly.
Inspiration: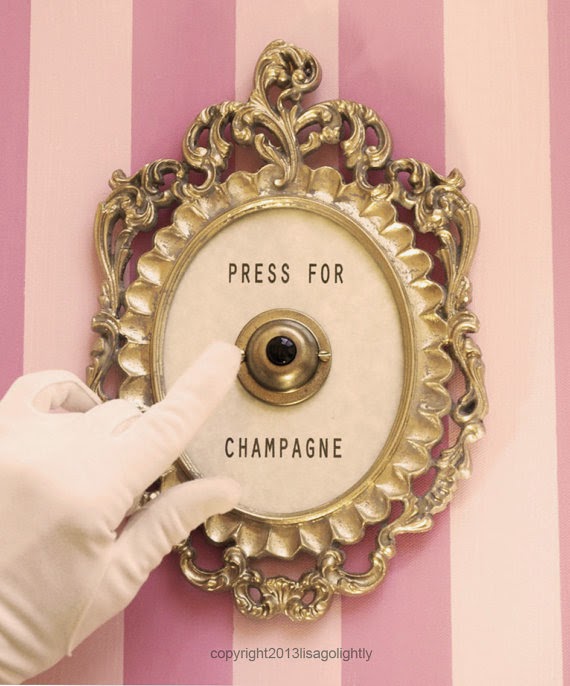 Photo from Etsy: Lisa Golightly
Here's my DIY:
Ornate Frame: Urban Outfitters (already owned)
Sharpie: gold
Paper: shimmer pink and velum
Door Bell: Home Depot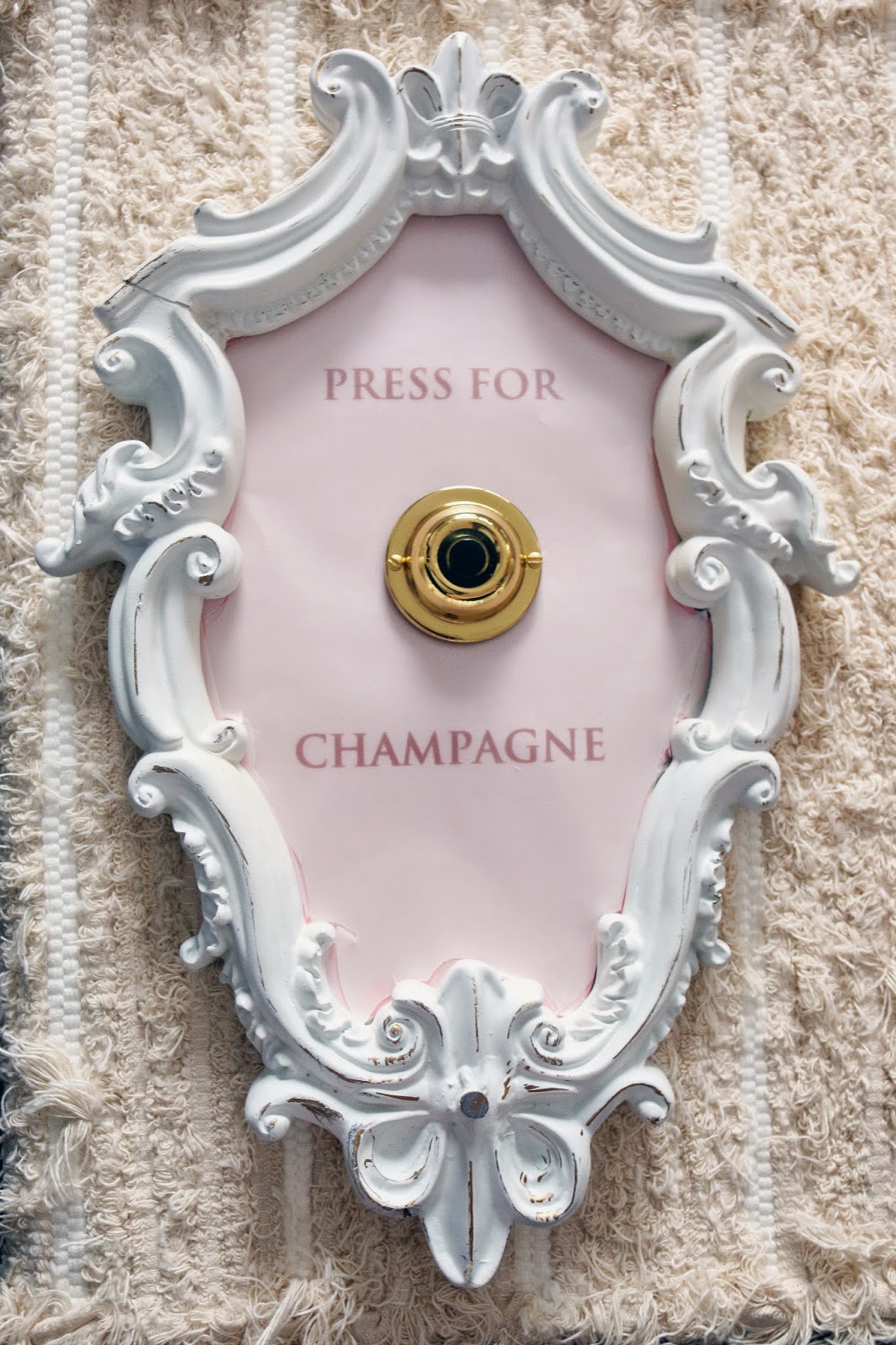 Instructions:
Print out "Press for Champagne" on velum paper. I used a deep gold color (comes through on photos as pink). I backed the velum with a light pink shimmer paper. Place the papers in the frame. For the door bell, I used metal cutting scissors to cut the tiny screws down and then hot glued them to the door bell. Hot glue (low heat) the door bell to the paper. You can hot glue cardboard to the back of the door bell and then hot glue that to the paper. If you want the distressed gold look on the frame, just take a gold sharpie and run it over the ornate edges. You can also take sand paper to the edges.
That's it!!
Oh….make sure you don't run out of champagne when you have guests over! ??