My nickname as a child was Bag Lady! I always wanted to carry a purse and that has not changed. However, I am now a mom of two, both under the age of two! This means…..I need a big diaper bag that will function for two kids and a mama and also be very stylish. When I came across the JuJu Be Be Prepared in The First Lady, I was in love! You can get it here This bag is all that and more! This is my third diaper bag and by far my FAVORITE!!! It's my Mary Poppins Bag. Scroll down to see what I pack in my diaper bag.
Here's the amazing features:
Full zip-down mommy pocket for super access.

~ This makes finding things so easy!!

Unique main zipper closure system makes for easy access.
Memory foam changing pad included … nice 'n comfy, super cushy.

~ This changing pad is very wide, so if your baby likes to roll like mine does…it's perfect!

Picture pocket to keep photos handy when bragging to friends.
2 exterior insulated bottle pockets … with Thinsulate by 3M. Keep it warm? Keep it cold? Sure!
Structured bottom with luggage feet.
Color-coded tabs let you know which pocket is for which child.
Tote handles can be tucked away and hidden when not in use.
Teflon® fabric protector … helps repel stains.
Agion® treatment protects the liner by inhibiting the growth of odor-causing bacteria, mold and mildew.
Crumb Drains … bye-bye mess!

~ Everyone with a toddler knows, that somehow there are always crumbs at the bottom of a diaper bag. All you have to do is unzip and swipe the crumbs out.

Metal Hardware … we don't trust any of the cheap plastic stuff.

~ Can we say, GOLD AND FABULOUS!!!

Light-Colored Linings … you can actually see what's inside, it's not just a big black hole in there.

~ My old diaper bag was all black inside and it was a big black hole!

Quiet Magnets … Velcro's noisy. Yuck!
Machine Washable … air dry.

~Any mama knows that machine washable is a must!!

Includes an adjustable removable shoulder strap.

~When you have two babies…you need both arms free!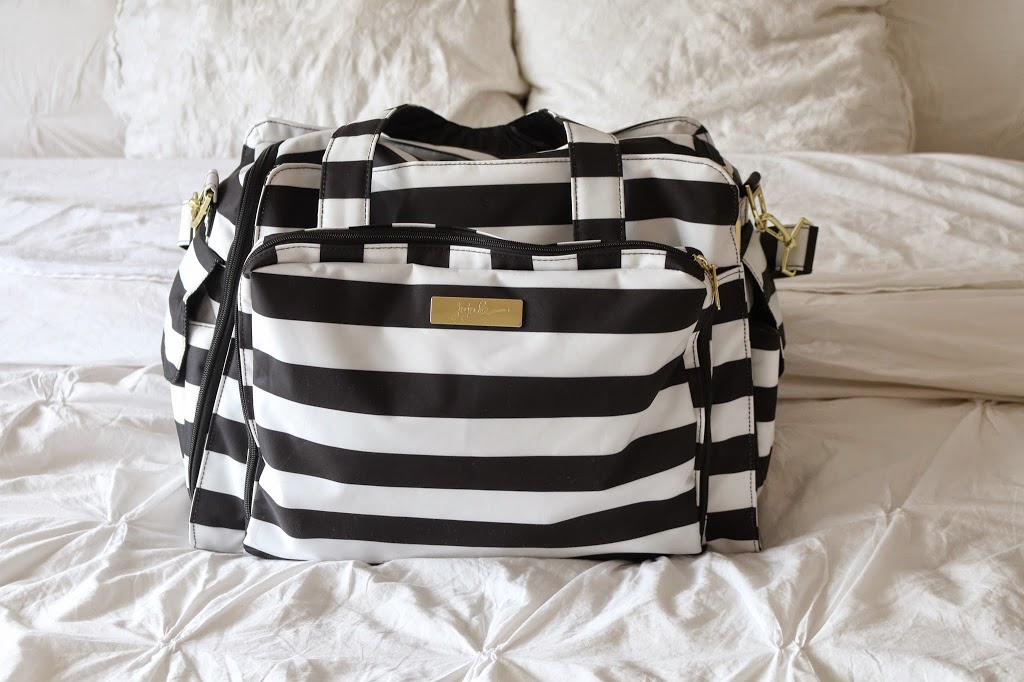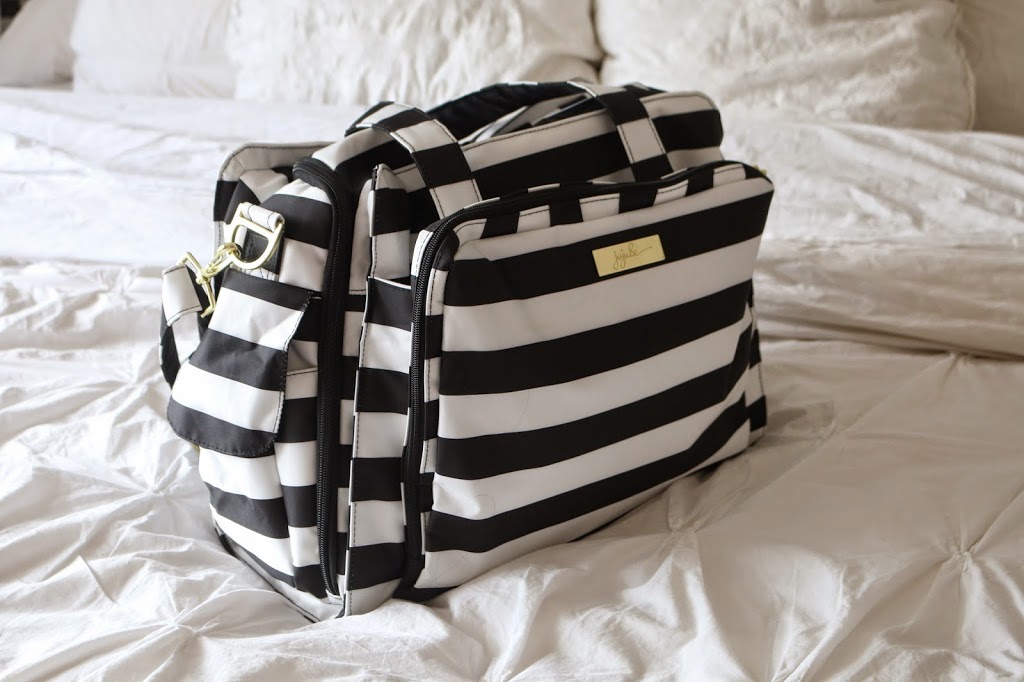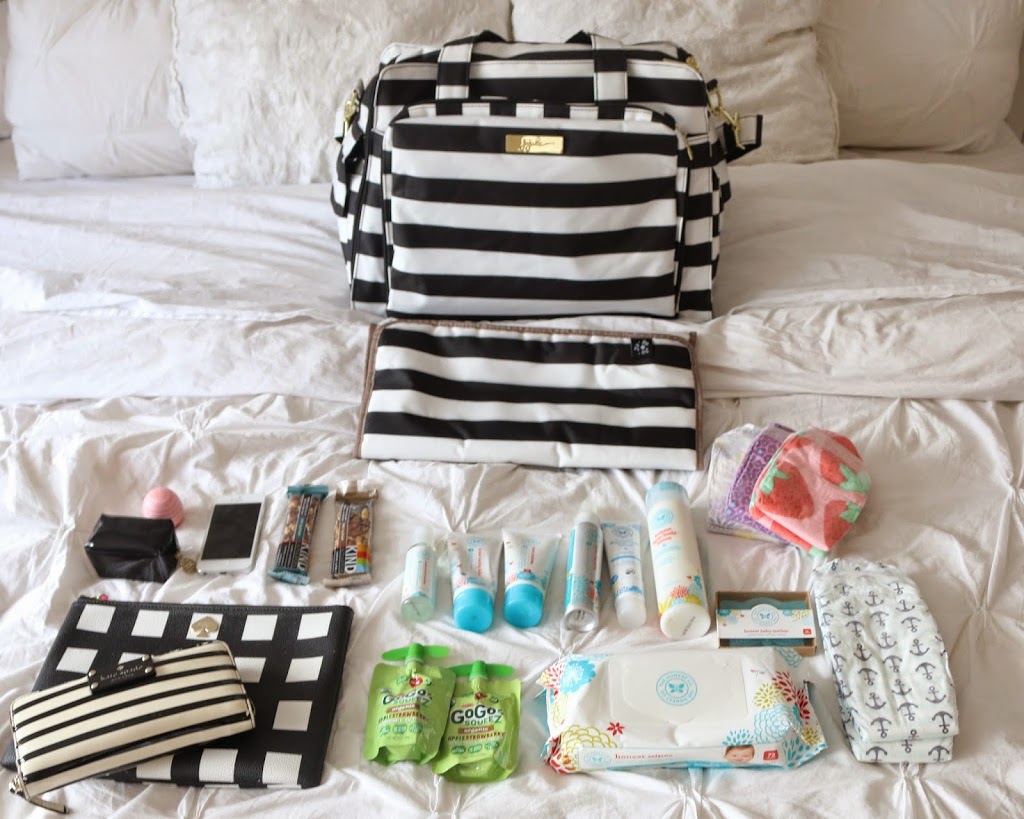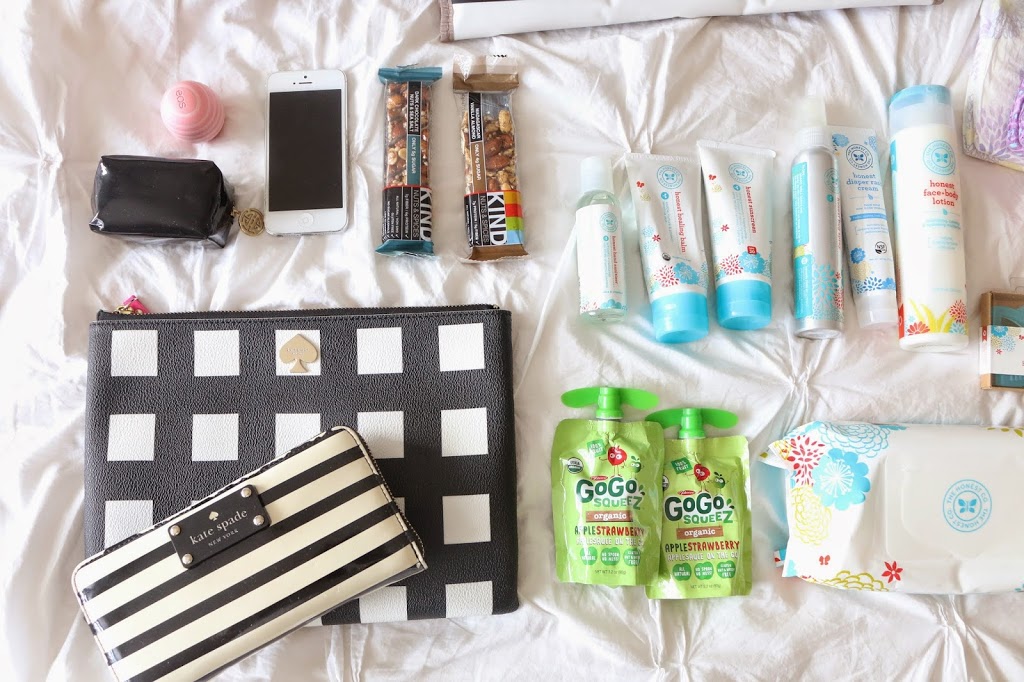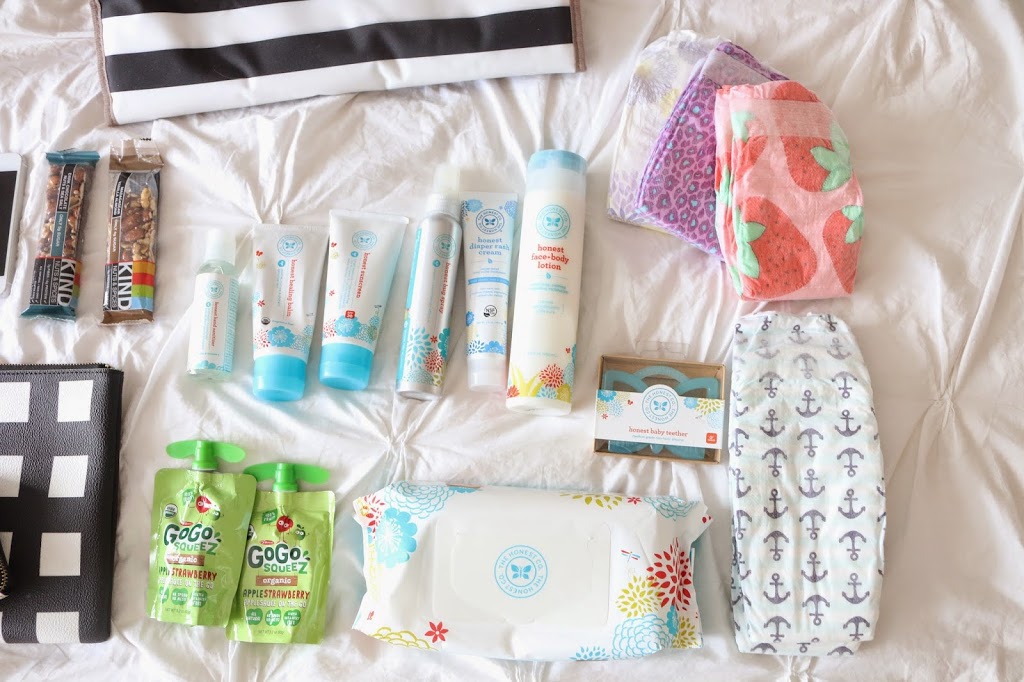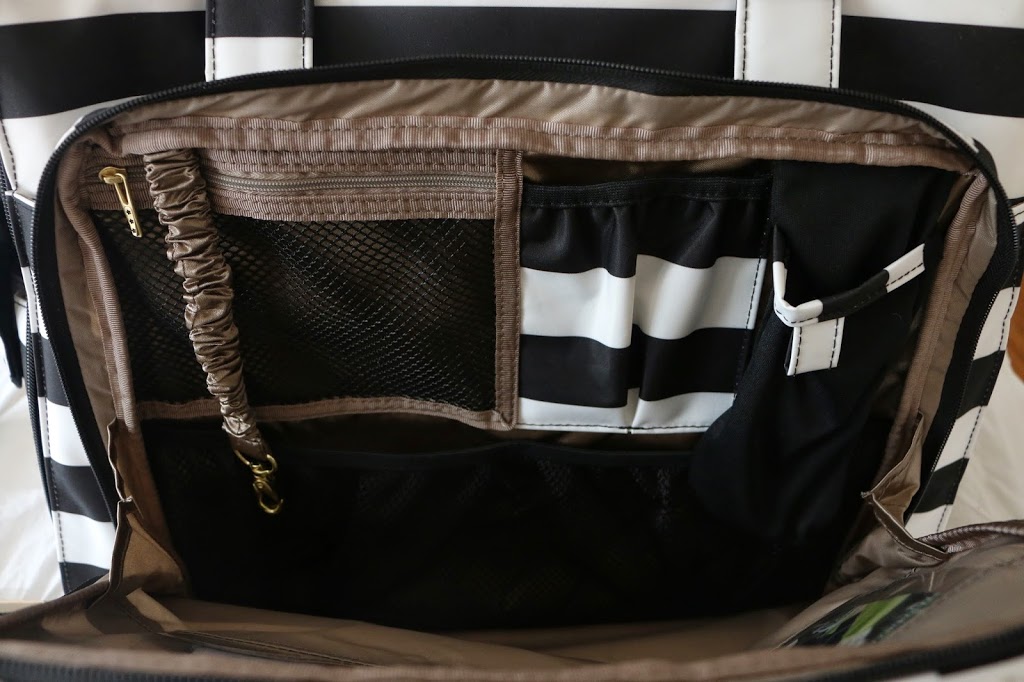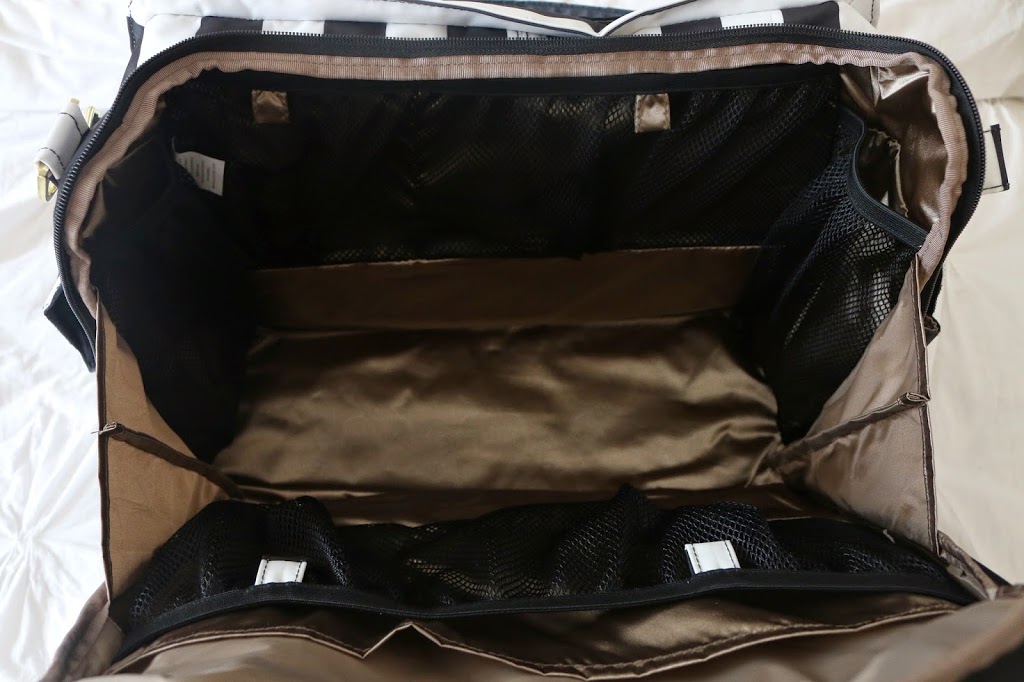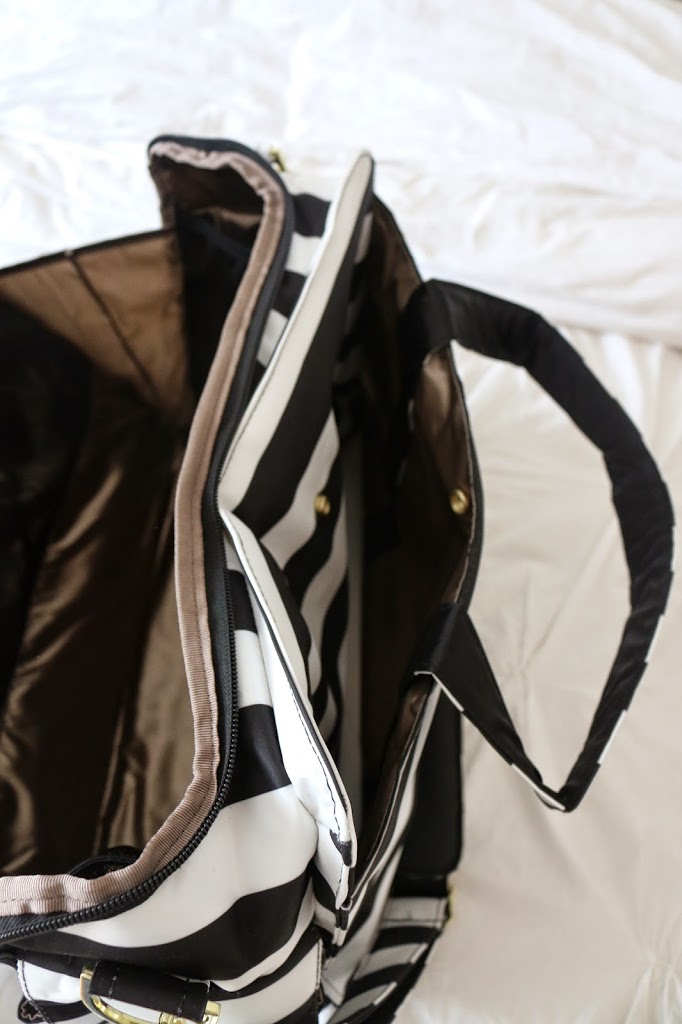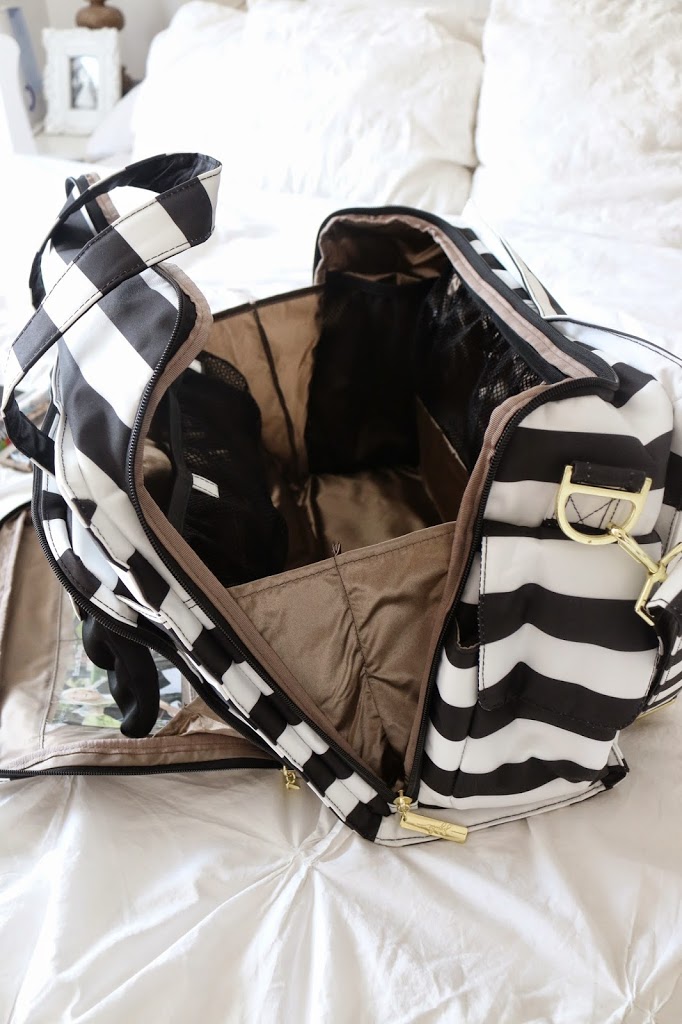 Diaper Bag / Wallet / Honest Company Products
Mommy List:
Wallet
Bag for all my receipts
Iphone
Eos Lip Balm
Emergency Kit
Kind Bars
Baby Product List:
Diapers
Wipes
Sunscreen
Hand Sanitizer
Bug Spray
Lotion
Diaper Rash Cream
Healing Balm
Teether
GoGo Squeeze Apple Sauce
Not Pictured:
Burp Cloth
Swaddle
Extra Onesies